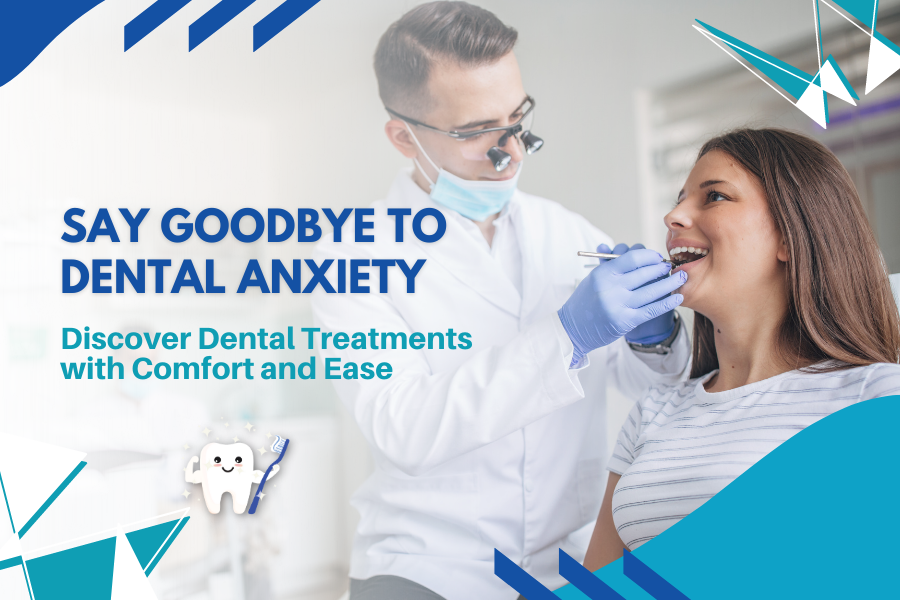 Say Goodbye to Dental Anxiety: Discover Dental Treatments with Comfort and Ease
Are you afraid to go to the dentist? Do you hate the idea of getting dental work done? At The Maxfac Clinic, a renowned dental treatment clinic in Mumbai, we are mindful of your worries and work to deliver innovative dental treatment with the best comfort and convenience. Your dental treatment will be stress-free and enjoyable thanks to our team of skilled dentists and cutting-edge facilities. At our dental clinic in Mumbai, wave goodbye to dental fear and experience a new level of dental treatment ease.

Modern Dental Treatment in Mumbai

We are dedicated to providing advanced dental care in Mumbai at The Maxfac Clinic. The latest innovations and cutting-edge dental tools are available at our clinic to give you the best possible dental care. Our qualified dentists at our dental treatment clinic in Mumbai are trained in the most up-to-date procedures to give excellent outcomes, whether you need a simple dental cleaning or a major dental procedure. We place a high priority on customer satisfaction and make sure that every treatment is customised to meet your unique needs.


An extensive selection of dental services
To meet your oral health needs, our advanced dental care in Mumbai provides a wide range of dental services. We have you covered everything from preventative treatment to restorative and aesthetic dentistry. The following are some of the main dental services we offer:

Dental examinations and cleanings.
Maintaining good oral health requires routine dental examinations and cleanings. To maintain the health of your teeth and gums, our dentists do thorough examinations and expert cleanings.


Dental Implants
Dental implants are a durable and aesthetic replacement for missing teeth. Our highly trained dentists offer the latest techniques to fix your smile and enhance your dental health.


Cosmetic dental
With the help of our cosmetic dental procedures, you can improve the overall look of your smile. We provide dental bonding, porcelain veneers, dental whitening, and more services to give you the pearly whites you've always wanted.


Orthodontics
With our orthodontic procedures, you may straighten your smile and fix bite problems. To obtain a straight and beautiful smile, we provide conventional braces, clear aligners, and other dental alternatives.

Root Canal Treatment

To save the tooth and relieve pain, our endodontists conduct root canal therapy on teeth that are infected or damaged. To ensure a successful surgery and your comfort, we employ advanced methods.



Your Comfort is Our Priority
We at The Maxfac Clinic are aware that dental anxiety affects a lot of people. We place a high priority on your comfort throughout your dental treatment process because of this. Here's how we make sure there's no tension:

Friendly and Compassionate Staff.
Our dental team is committed to creating a pleasant atmosphere. We take every opportunity to hear your worries and respond to any inquiries you might have.

Quiet and pleasant atmosphere.
A quiet and pleasant atmosphere is created by the decor of our advanced dental care in Mumbai. We try to make your visit as peaceful as possible by providing comfy seating and relaxing music.

Dentistry without Pain.
We use the newest methods and equipment to reduce discomfort during orthodontic treatments. Our dentists can give local anaesthetics with ease.

Sedation Option
We provide sedative solutions for customers who experience acute dental anxiety so they can unwind throughout their dental procedures. Our dentists will go over the possibilities and choose the optimal strategy based on your individual requirements.

For the best dental care, go to The Maxfac Clinic.
The Maxfac Clinic is the go-to place in Mumbai for revolutionary dental treatment. Our dental treatment clinic in Mumbai, combines knowledge, modern equipment, and a patient-centred philosophy to provide top-notch dental care that is both relaxing and convenient. Get rid of your dental phobia and discover The Maxfac Clinic's differences. Make an appointment with us right away to start along the path to a radiant, healthy smile.